27 Jul

Recipe: Spiced Dijon Salmon with Apple Arugula Salad and Couscous

Spiced Dijon Salmon with Apple Arugula Salad and Couscous
Serves 4 | Prep: 10 min | Total: 30 min | Calories: 730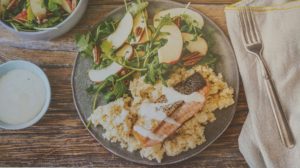 2 Veggie stock concentrate
1 cup Couscous
20 oz Salmon
2 tbsp Turkish spice blend
2 Lemons
2 Gala apples
2 tbsp Brown sugar
4 tbsp Dijon mustard
8 tbsp sour cream
4 oz Arugula
2 oz pecans
Bring 1 cup water, stock concentrate and a pinch of salt to a boil in a small pot. Once boiling, add couscous. Remove from heat, cover and let stand until rest of meal is ready.
Heat a drizzle of olive oil in a large pan over medium-high heat (use a non-stick pan if you have it.) Pat salmon dry with a paper towel. Season all over with salt, pepper and Turkish spice. Add to pan skin-side down. Cook to desired doneness, 3-6 minutes per side.
Wash and dry all produce. Halve lemons. Halve and core apples, then thinly slice.
Place brown sugar in a medium bowl. Squeeze in juice from one lemon and stir to dissolve sugar. Add mustard and sour cream and stir to combine. Season with salt and pepper.
Place arugula, apple and pecans in a large bowl. Add a big squeeze of lemon and a drizzle of olive oil and toss to combine. Season with salt and pepper
Fluff couscous with a fork and season with salt and pepper. Divide couscous between plates, then top with salmon. Drizzle with sauce. Serve with salad on the side.
START STRONG:
If your salmon starts to char on the surface before it's done in the center, lower the heat. That way, the fish will cook more gently and evenly.
SUGGESTED WINE PAIRING:
Apercu Pays d'Oc Chardonnay, 2016