29 Oct

Ding Darling Wins Best Restroom in America Contest! Come See What it's All About!

The Ding Darling Best Restroom in America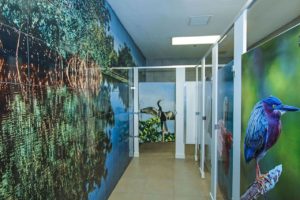 features educational imagery inside the  lavatories and on the outdoor wall leading to them. The outdoor wall and ceiling mural immerses visitors in a virtual underwater experience, where they come eye-to-eye with 3D manatees and look up to see an alligator and other wildlife sculptures swimming overhead.
Inside, the lavatories were renovated to green standards and continue the interpretive underwater motif, featuring a photo-tile mangroves mural and more wildlife sculptures. Stall doors are wrapped with close-up professional photographs of refuge birds and identification information. Educational teaser messages were designed to entice visitors into the admission-free Visitor & Education Center to learn more. 
"Besides educating visitors about our wildlife and habitat, the restrooms emphasize the importance of water quality and water itself as a vital resource to our livelihood and local economy," said Toni. "We bus more than 8,000 students a year to the Refuge. First stop is always the restroom. Now the learning experience can begin immediately."
The #LearningLav project showcases the work of two artists. Sanibel artist Andrew Corke fashioned a mother and baby manatee out of recycled bike tires, while North Carolina artist David Williams sculpted other creatures out of foam and fiberglass and painted the lifelike sculptures and one-dimensional aspects of the murals. 
"We like to say that the restrooms have turned a 'nature call' into a 'nature enthrall,'" said Paul Tritaik, Refuge Wildlife Manager. Come visit and see for yourself!