07 Jul

Home Office on a Budget…Yes Please!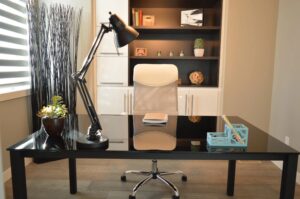 Home Office On A Budget? Yes, Please!
If you have yet to hop on the work-at-home train, there has never been a better time to go remote. Working from home gives you the freedom to balance the things you love with the things you need to do to afford them. But it does mean sacrificing part of your home to your workday. Fortunately, you don't have to spend an entire month's salary to create a workspace that lets you get the job done. Here is how to design a home office that's right for you and your budget.
Evaluate Your Space
The first step in making a home office that works for you is knowing where it will be. An ideal location is a spare bedroom, but not everyone has that luxury available. Any extra room or walk-in closet can be converted into a comfortable home office. No matter where you choose, make sure that it is in a quiet area, preferably away from the heart of your home so that you are not distracted by television, children, or other day-to-day activities.
Dressed For Success
You have no doubt heard that you should dress for success. The same is true of your home office. Outfit your space with tools and furniture that help you be the most productive. Start with a desk. Check out discount sites, such as Overstock, for a computer desk that matches your current decor; you can use sites like Rakuten to find an Overstock coupon to reduce the overall price even more.
Next, choose a chair with a full back that allows you to sit comfortably at a 90° angle. Fit Small Business recommends breathable upholstery and making sure that your chosen seat is adjustable.
You will also want to have accessories that help you stay organized. This might mean a paper tray for in-progress and completed assignments or small storage bins that can help you keep your pens, pencils, and other office tools neat and tidy in your desk drawer. Happily, you can find many of the accessories you need at your local $1 dollar store.
When You Need More Room
Unfortunately, if you do not have the space for a home office in your current house, you will need to look at other options. These are usually to either build a small freestanding building, put an addition on your home, or move into a larger property. These are all pricey. However, there are ways to keep your expenses down.
If you decide you need a separate building, you can build one yourself, but you will need to find a licensed electrician if you need lights and outlets for your computers and equipment. A home addition may run you up to $200 per square foot, and Ownerly notes that this will take up to about six months to complete.
When you are truly short on space, your best bet may be to purchase a new home that allows you to work and has the space available to grow your business. This can be the costliest option, but if you partner with a professional realtor, you can rest easy. Your agent will show you only properties that match up with your most pressing needs. The real estate pros at SanCap Gateway Realty know the area, and they can keep you on track during your home search so that you don't spend more than you have to do to get exactly what you need.
Having a home office does come with expenses. But it does not have to break the bank. Whether you are simply converting the guestroom or need to take on a new mortgage, it's possible to keep costs down and productivity high. The above tips can help.
Article written by Tina Martin,  https://www.ideaspired.com/
tina@ideaspired.com
Image via Pexels